Visit With Us!
6300 Deane Hill Dr. | Sunday Bible Study 9am & Worship 10:30am
Welcome to Central Bearden!
We know visiting a new church can be intimidating. We want to help make your first experience at Central Bearden a warm one by answering any questions you may have about your first visit. If you have any questions you can't find the answer to, feel free to contact us below or call us at 865-588-0586.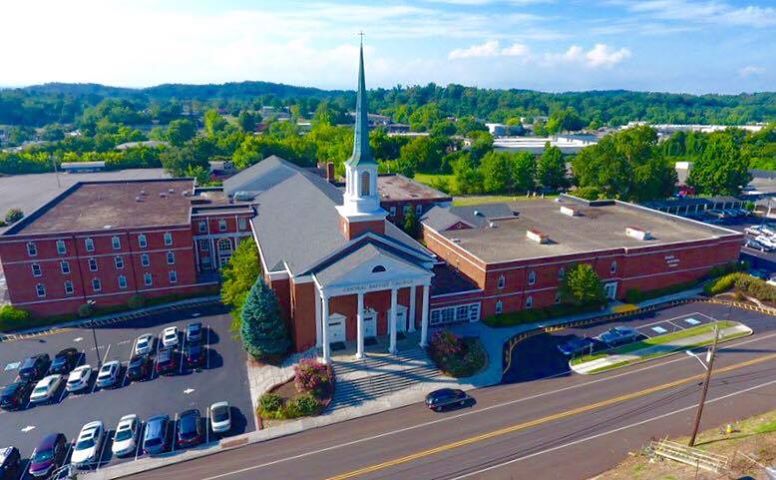 Every Sunday at 6300 Deane Hill Drive
Bible Study at 9:00 AM | Worship at 10:30 AM
Where Do I Park?
We have a lot specifically for visitors in front of our main entrance. When you enter from Kingston Pike, pull straight onto Henry Chiles St and Visitor Parking is on the right. Follow our signs upon arriving or review our parking map at the top of this page before you arrive!
What Do I Wear?
Most folks at Central Bearden dress up on Sundays, but you'll see everything from dresses and sport jackets to jeans and t-shirts. We encourage you to dress as you feel comfortable!
What Happens in Bible Study?
Our 9 AM Bible Study hour provides classes for every stage of life. Children and Students are divided by age and grade. College and beyond are divided by stage of life. All classes spend the hour studying scripture and discussing its application in our lives. Many of our classes have potluck breakfasts and fellowship at the beginning of the study hour. To find a group that fits your needs, visit our Connect tab or Contact Us!
What Happens in Worship?
Our 10:30 AM Worship Service is a time of music and prayer as well as a Sermon from our pastor, Dr. Wade Bibb. The service typically lasts an hour to 75 minutes. We sing 4-6 songs including traditional hymns and contemporary worship pieces. The song lyrics are provided on the screens as well as in the hymnal at your seat. Our worship leader, choir, and worship band are all part of leading the music. Our pastor's sermons follow the semester's theme and suggested notes are provided on the screens. We end every service with a time of prayer and offering, followed by a short word from our Pastor.
What Do My Kids Do on Sundays?
During the 9 AM Bible Study hour, children and students are divided by age and grade for their own Bible Study Groups.

During the 10:30 AM Worship hour, newborns – Pre-K continue in their classrooms for Preschool Praise. Children in Kindergarten – 5th Grade come with you to the Worship Service. Just before the sermon begins, children Kindergarten – 5th grade are dismissed to Kids Celebration.

For your child's safety, Newborns – Pre-K have a check-in system located on the first floor lobby. The check-in kiosk provides you and your child each with a nametag. The nametags have a unique matching code so only you can drop them off and pick them up. For Kindergarten – 5th Grade, we ask parents to walk their child to their classroom on the second floor for check-in and pick them up afterwards. Visit our Children's Desk or Welcome Desk in the Main Lobby (see map) if you need help locating the kiosk!

Our childcare workers are all Central Bearden members who have completed our Child Protection Training and have passed background checks.

Visit our Children's Ministry page for even more details or Contact Us!