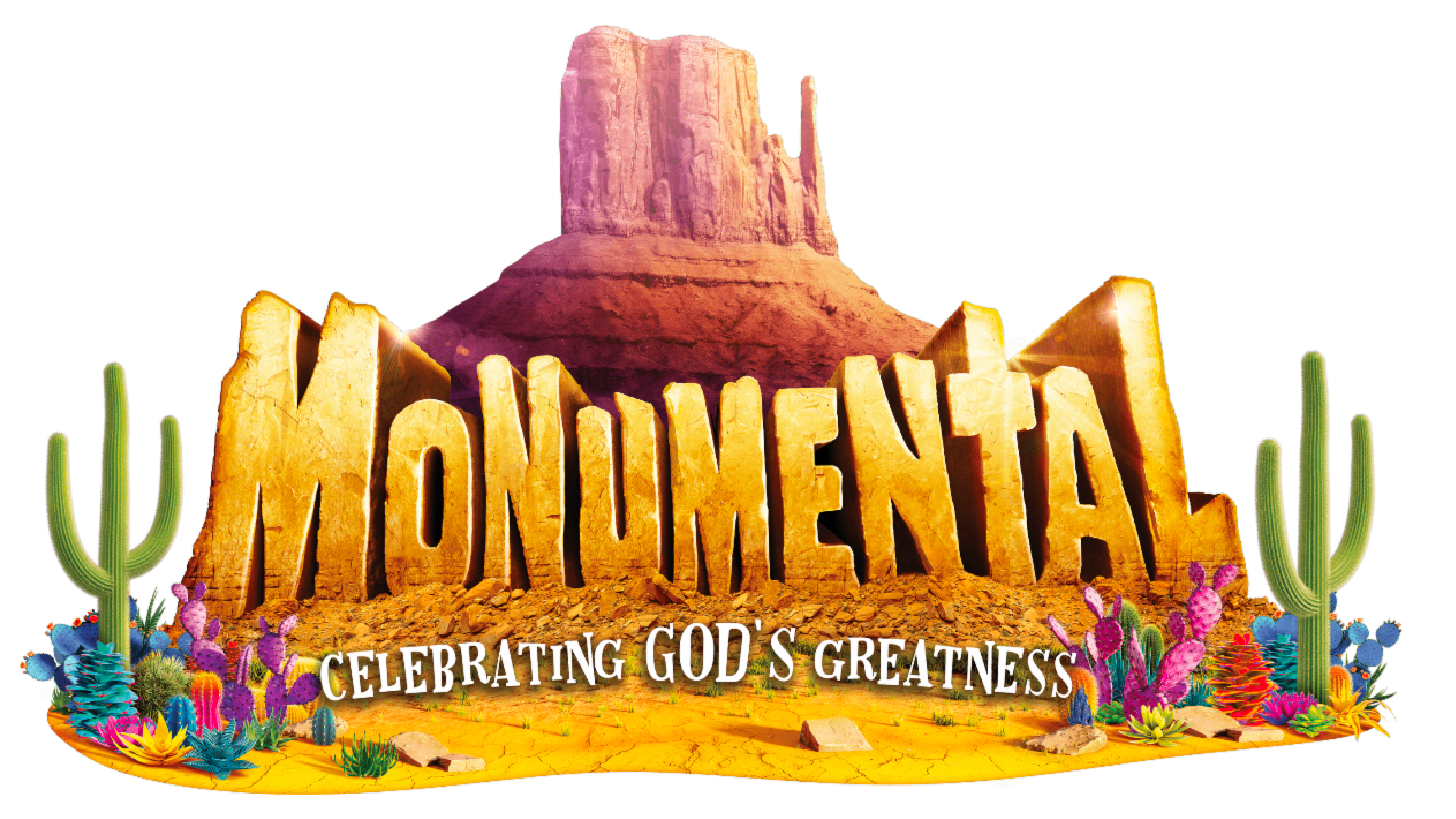 VBS Monumental
Quick-Look
Ages: 3 years- completed 5th grade (Childcare for ages 2 and younger available for volunteers)
Cost: Free (optional $5 for t-shirt)
June 13 – 17 | 9am – 12:15pm
Contact us at

[email protected]

with questions!
What is Monumental VBS?
At Monumental VBS, kids celebrate God's greatness! Monumental is filled with awesome Bible-learning experiences kids see, hear, touch, and even taste! Sciency-Fun GizmosTM, team-building games, unforgettable Bible songs, and tasty treats are just a few of the standout activities that help faith flow into real life. (Since everything is hands-on, kids might get a little messy. Be sure to send them in play clothes and safe shoes.) Plus, we'll help kids discover how to see evidence of God in everyday life—something we call God Sightings. Get ready to hear that phrase a lot!
We try and make the last year of VBS for our 5th graders extra special by providing off campus, hands-on mission opportunities throughout the week! The 5th grade class will start the day with us in our large group Worship rally, attend Bible Adventures, and of course enjoy yummy VBS snacks, before heading off with our Missions Pastor, Tim Earl, and other VBS leaders for their Missions Immersion Experience at local faith based organizations! Don't worry before we head out, parents will receive a full line up of activities and of course permission slips to be signed. Sometimes being the oldest pays off!!
Family Worship & Festival | June 19
Parents, grandparents, and friends are invited to join us at 10:30am on Sunday, June 19th for a special Monumental Family Worship service, where ALL the VBS children will sing and share what they learned during the week. To top it off there will be a free lunch following the celebration, and a festival outside with face painting, bouncy houses, and more. You don't want to miss this epic celebration.
Mission Projects
Operation Kid-to-Kid | In partnership with World Vision and Group Publishing
Donations to Operation Kid-to-Kid will help to provide school supplies for children living on reservations.
Bearden Elementary & West High Food Collection | Central Bearden Project
Nonperishable food items will be donated to students at Bearden Elementary & West High School who normally receive food assistance during the school year. Recommended nonperishable items are: microwavable mac & cheese, microwavable soups/chef boyardee, apple sauce, pudding cups, fruit cups, juice boxes, oatmeal or small cereal boxes, cheese & crackers, granola bars, vienna sausages.