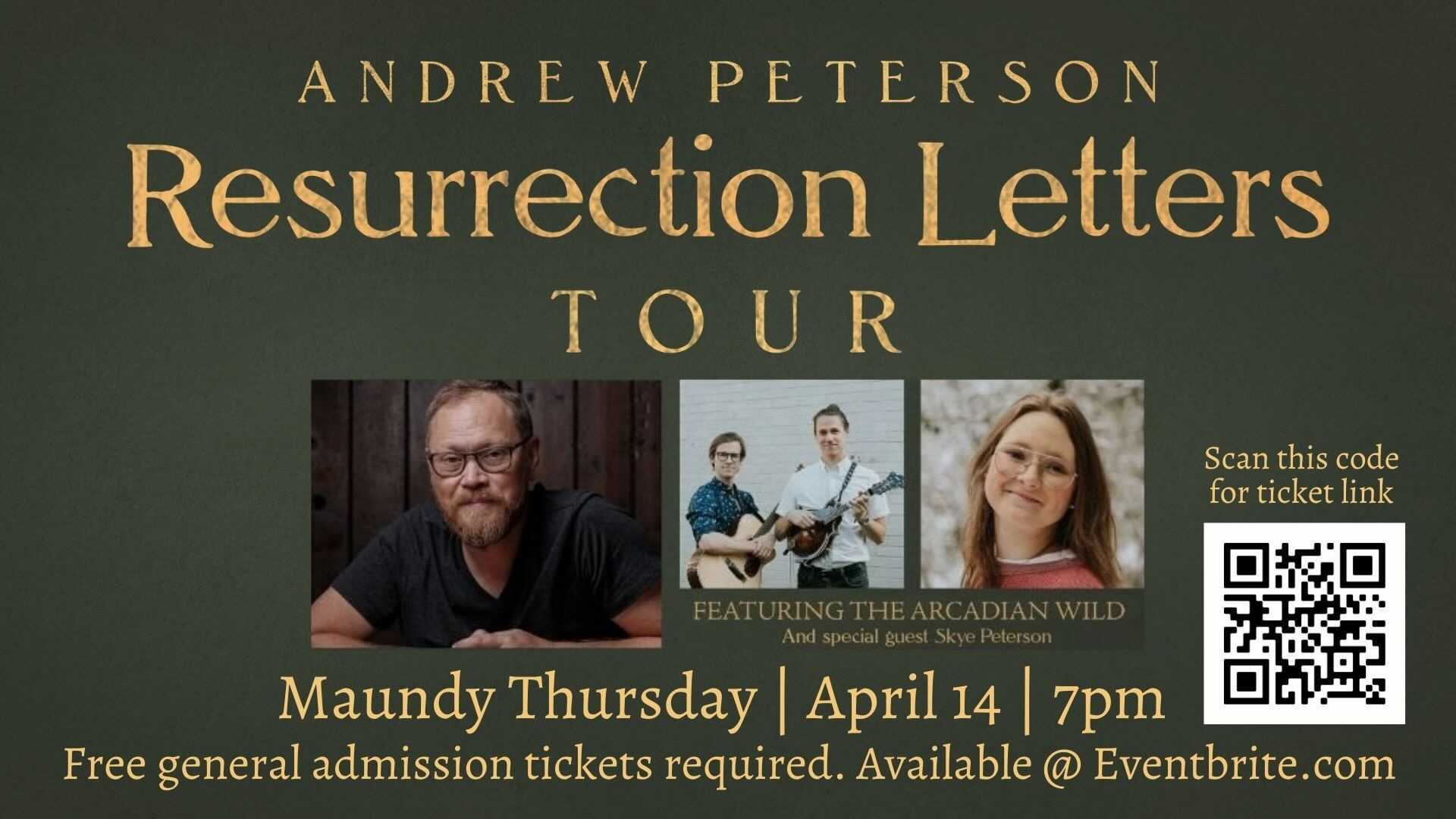 Andrew Peterson "Resurrection Letters" Tour
THIS EVENT IS SOLD OUT – waiting list available at Eventbrite. The Resurrection Letters Tour featuring Andrew Peterson with special guest, Sky Peterson, and opener, The Arcadian Wild.
Andrew Peterson
For more than twenty years now, Andrew Peterson has been about the business of quietly changing lives in four-minute increments. In the city of Nashville where music is an industry in the same way fast food, generic greeting cards, and bumper stickers are industries, Peterson has forged his own path, refusing the artistic compromises that so often come with chasing album sales and radio singles and creating instead a long line of songs that ache with sorrow, joy and integrity, and that are, at the end of the day, part of a real, ongoing, human conversation. 2019, Andrew celebrated the 20th anniversary of his Behold the Lamb of God project with an anniversary tour and brand new album recording.
Andrew and his wife, Jamie, have been married for 24 years and have three children, Aedan, Asher, and Skye. In his spare time Andrew keeps bees, builds dry stack stone walls, gardens, draws, and sleeps.
The Arcadian Wild
Led by songwriters Isaac Horn and Lincoln Mick, and with the support of Erik Coveney on bass and Bailey Warren on fiddle, The Arcadian Wild confidently inhabits and explores an intersection of genre, blending the traditional with the contemporary in order to create a unique acoustic sound that is simultaneously unified and diverse. With roots in formal vocal music and influences from progressive bluegrass and folk, The Arcadian Wild offer up songs of invitation; calls to come and see, to find refuge and rest, or to journey and wonder. Over the course of 2020, The Arcadian Wild released Principium, a four-movement song-cycle that explores human relationship, flourishing, degradation, and redemption, culminating in the release Principium EP in February 2021, which debuted at #3 on the Billboard Bluegrass Chart.