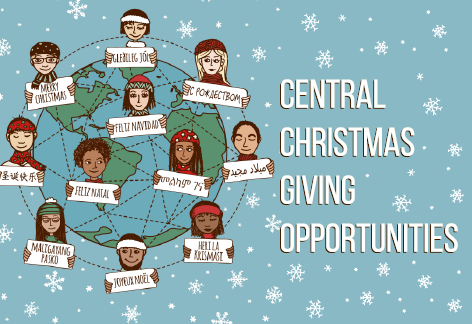 Christmas Giving Opportunities
World Missions Offering
"So that your ways may be known on earth,
your salvation among all nations" Psalm 67:2
Giving to the World Missions Offering allows you to support:
1. International Mission Board (SBC): Lottie Moon Christmas Offering
2. Cooperative Baptist Fellowship: Offering for Global Missions
3. Baptist World Alliance: Aid to Hunger Around the World
The Lottie Moon Christmas Offering is an annual offering collected by believers around the world to support international missions. This offering is unique from other mission offerings in that 100% of gifts provide for missionaries all over the world. It is a valuable part of Southern Baptists' 175-year history of reaching the nations with the gospel and vital to reaching the vision of a multitude from every language, people, tribe and nation knowing and worshiping our Lord Jesus Christ. (Rev.7:9)
The Offering for Global Missions "Extend Hope and Hospitality" will extend lasting hope and loving hospitality to refugees and people living in poverty around the world. During these times of the coronavirus pandemic, the needs of people served through our CBF Field Personnel have increased exponentially. You can help people who are suffering through our World Missions Offering to ensure that field personnel stay firmly rooted in the places where God has called them.
Do not neglect to send hospitality to strangers, for by doing that some of have entertained angels without knowing it. Hebrews 13:2
For 100 years, Baptist World Aid has networked Baptists around the world to alleviate poverty and hunger, respond when disasters strike, and support sustainable community development projects around the globe. 10% of all the gifts given to the World Missions Offering will be sent to Baptist World Aid to help fight hunger around the globe.
Operation Christmas Child
Operation Christmas Child provides shoeboxes filled with gifts, primarily to children in third world countries and with each box comes a presentation of the gospel at the child's level of understanding. For each of the last several years, approximately 10 million shoeboxes have been distributed to children worldwide, 6 million have completed a bible study called "The greatest Journey"and approximately 2 million of these have made a profession of faith in Jesus each year.
You can participate in any of the following ways:
1. By November 8, bring any individual items to pack in a shoebox and place them in any of the boxes throughout the church.
2. Pick up a shoebox and brochure of suggested items here between November 1-15 through the Welcome Center and return it packed to the ROC between November 16-23! You can also use any shoebox that you have at home!
3. Build a shoebox online! The new Operation Christmas Child online shoebox packing allows you to select items and donate the shipping fee all without leaving your home. Help us reach our goal of 100 shoeboxes!
Hope Buckets
Samaritan Ministry's Hope Buckets project is back! We will be donating our "buckets" to Positively Living, one of our local agencies serving the HIV community. Because of COVID-19, Samaritan Ministry is requesting no one go out shopping! Instead, we ask you to donate to support this project. Each bag costs about $45. There are two ways to donate:
1. Write a check to Central Bearden and put "Hope Bucket" in the memo
2. Give online and select "Samaritan" from the Fund dropdown.
Please make your donation to sponsor one or more Hope "Buckets" ($45 each) during the month of November. We will fill our bags during the first week of December!
Mission of Hope Barrels
Mission of Hope barrels have gone digital! Rather than shopping in-person and bringing donations to barrels across Knoxville, Mission of Hope is requesting you shop online through their registries! Select items from their registry lists, purchase them online, and they will be shipped straight to Mission of Hope for packing and delivery to our less fortunate neighbors in Appalachia this Christmas. You can also help by making a financial donation to Mission of Hope.
Central's Shoes & Socks Campaign – Mission of Hope
Like many other campaigns, we are requesting no one go shopping for socks and shoes this year. Due to travel restrictions, we will be unable to deliver these items in person. Instead, our Mission of Hope team will be purchasing all the shoes and socks and sending them to the schools in rural Kentucky on our behalf.
Because of your faithful giving to the church, the Missions Committee has been able to fund the purchase of shoes and socks for over 100 children! If you would like to still give towards this project, there are two ways to donate:
1. Write a check to Central Bearden and put "Central MOH" in the memo
2. Give online and select "Other" from the Fund dropdown. Type "Central MOH" in the Note box that appears.
Recent Posts
Categories